Real Estate Newsletter Articles
High Quality - No to Low Cost

Real Estate Newsletter Articles.  If you need newsletter articles you've come to the right place.  Below are 3 great sources of quality content. Here they are

in no particular order of importance.
1. Ghost Writers.  You can hire someone to write articles for you, but you have to be diligent in your search for the right person at the right price.  For example,  I once hired someone to write 20 articles and when it was all said and done I had a crappy product for what I paid for it.
On the other hand I was fortunate to have hired a gem of a writer that produced high quality products.  Although she was expensive she was also fast, good and worth every penny I paid her. In fact, I still use her from time to time.
So, if you like the idea of hiring ghost writers you can find a mother lode of them at Elance Services  and Guru com.  Both services allow you to post jobs and receive bids without obligating yourself to actually award the jobs to anyone. 
2. Article Directories .  You can also download real estate newsletter articles from online Article Directories.  Two of my favorites are Ezine Articles and Go Articles. Both contain lots of top quality articles by hundreds of writers.
Know this...as with all credible online article directories you have to reprint the articles in their entirety and leave the resource boxes at the end of them, recognizing the authors who wrote the articles for your use. 
However, when you include the resource boxes, which you should always do, it essentially takes people away from your site. Still, using articles from article directories in moderation is a good strategy for finding fast, good and ready to use content.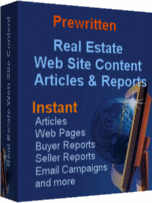 3. Pre-written Real Estate Articles . Investing in pre written real estate articles and reports is my favorite strategy for acquiring real estate newsletter articles. Many, like these, are high quality, low priced options for generating lots of content in a little amount of time.
Pre-written articles are also versatile and can be used in a variety of ways, such as newsletter content articles, Ezine articles, web site content, buyer articles, web site content, special marketing reports, email marketing campaigns, etc. And what I like most about them is that you won't have to include resource boxes at the end of the articles directing visitors away from your web site.
With pre-written articles your visitors will stay on your site longer, thereby increasing your odds of converting them to paying customers.
Home Page > Real Estate Articles >> Real Estate Newsletter Articles