Instant Real Estate Web Site Content -
for Articles, Blogs, Newsletters & More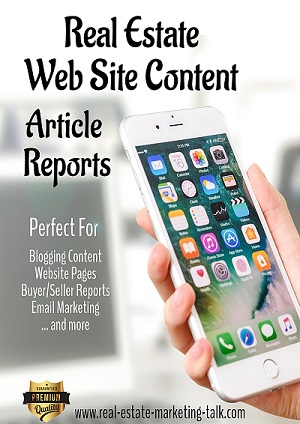 Who Else Wants 275 Real Estate
Website Content Article Reports for less than 36 Cents Per Article?
50 Buyer and Seller Real Estate Marketing Articles and Reports
50 Mortgage and Finance Related Articles and Reports
25 Credit Card Debt Articles and Reports
150 Bonus Articles and Reports  
The fastest and easiest way to add hundreds of real estate articles to your website is with prewritten real estate articles and reports. Here's some of what we offer...
10 PLR Home Buying Article Reports w/ Private Label Rights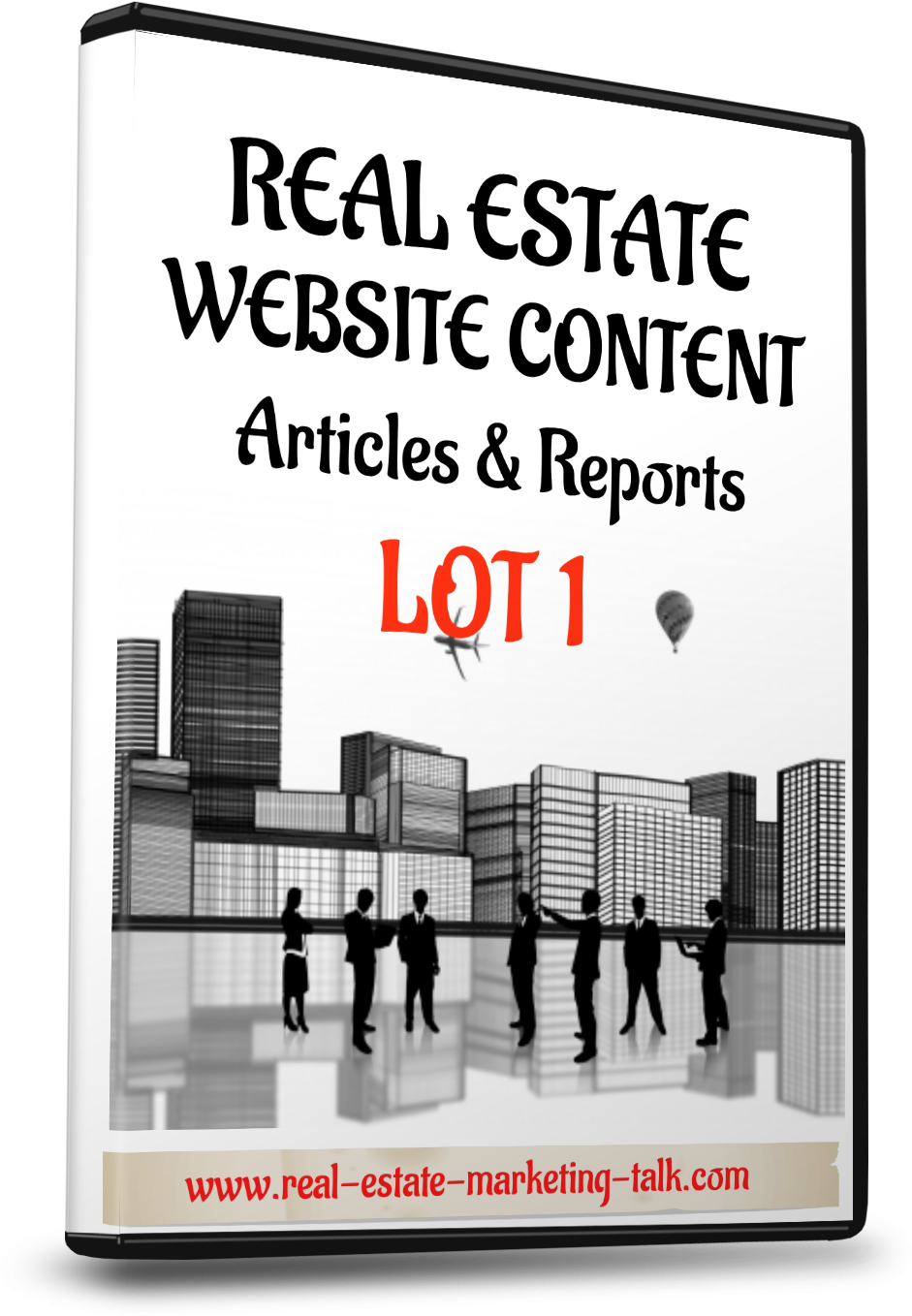 Lot #1: Ten Articles - Buying a Home Outside The US, Choosing a Listing Agent, Foreclosure-Buying a Foreclosed Home, Buying a Home From The US Government, etc. Perfect content for Blogs, Websites, Newsletters, Drip Campaigns, Facebook, Twitter, Newspaper Articles, etc. >>>
---
10 Home Buying and Selling Article Reports
w/ Private Label Rights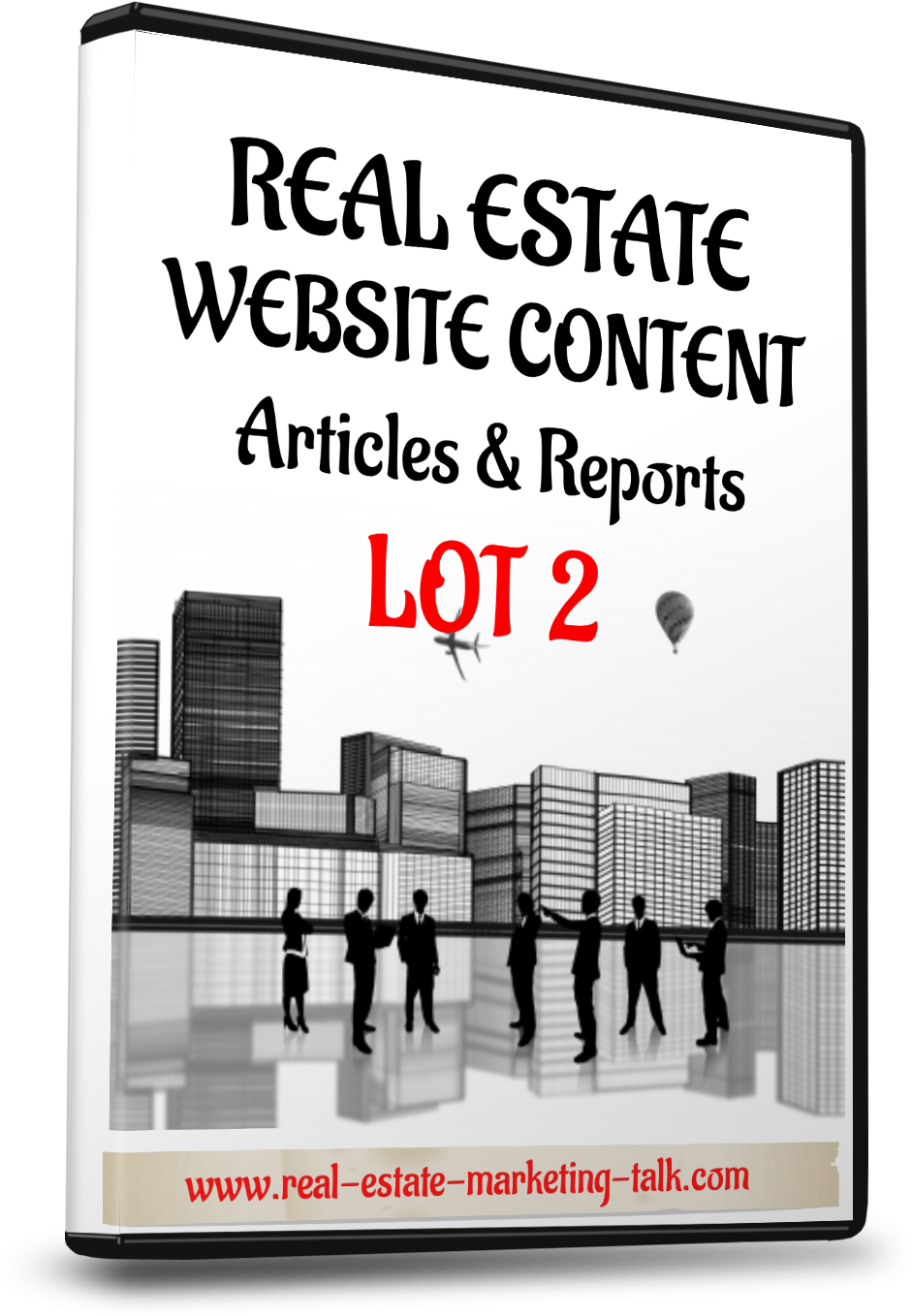 Lot #2: Ten Articles - Open House - How To Make The Most of The Visit, Step By Step Closing For The Buyer and Seller, Ten Common Mistakes People Make When Buying A Home, etc. >>>   

---
10 Home Buying and Selling Article Reports
w/ Private Label Rights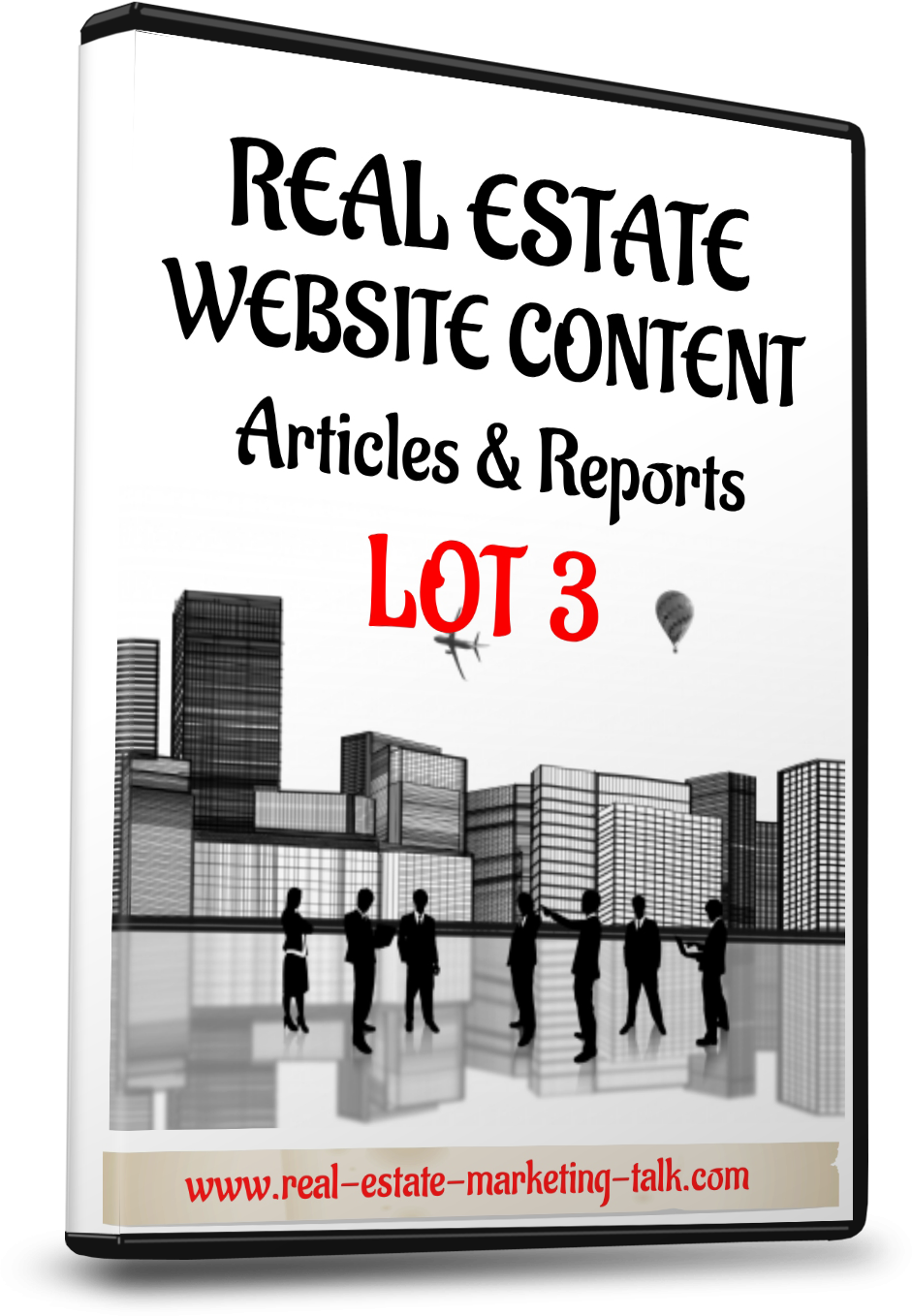 Lot #3: Ten Articles - Subjects include How To Choose The Perfect Real Estate Agent, Closing Costs, FHA Loans, Home Warranties, Interest Only versus Traditional Loans, Loan Fraud, Property Disclosures, etc. >>>   

---
10 More Real Estate Web Site Content Articles
w/ Private Label Rights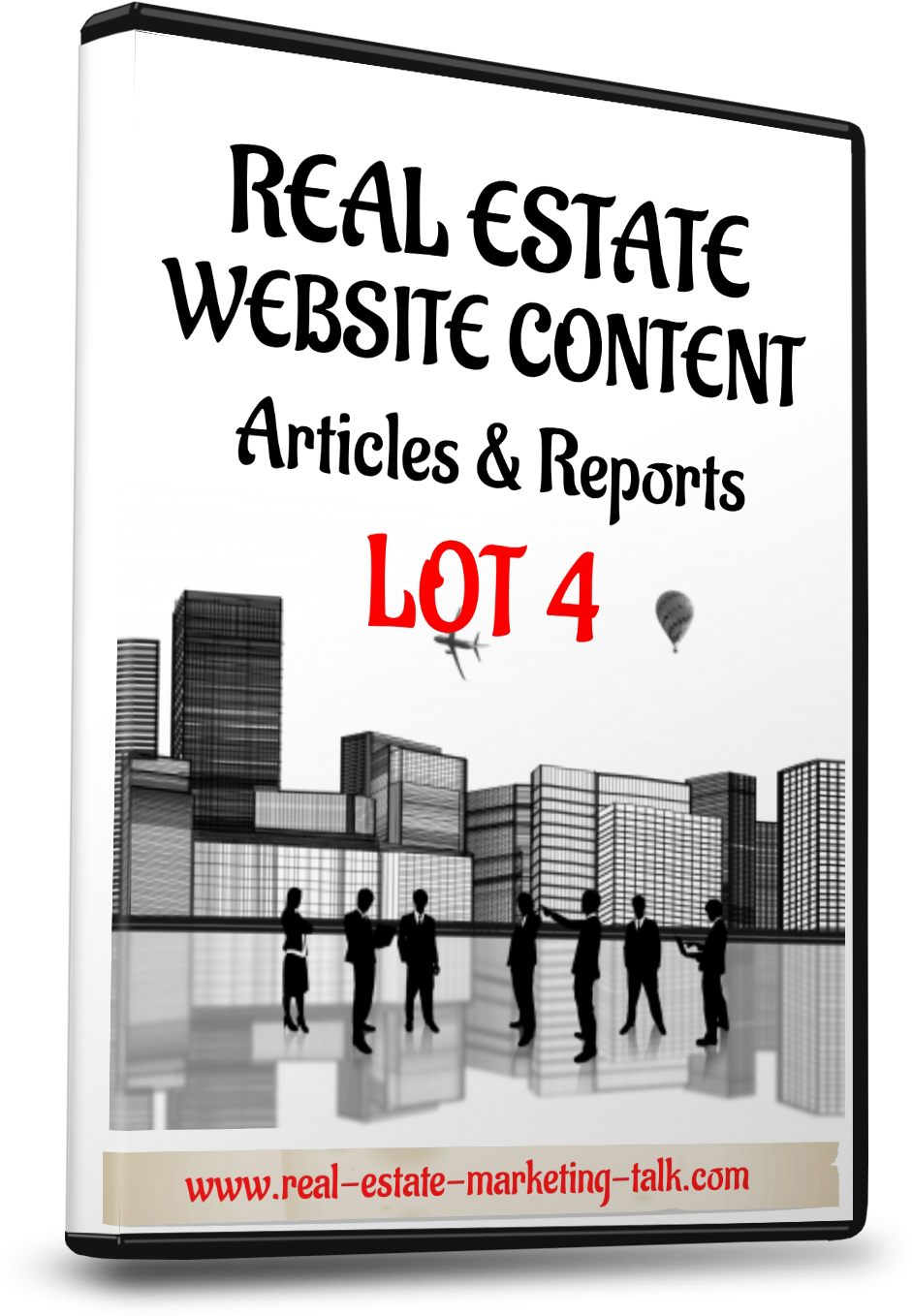 Lot #4: Ten Articles - Don't let not being a good writer keep you from realizing the benefits of real estate articles and website content.  Not available right now!

---
Credit Card Article Reports
w/ Private Label Rights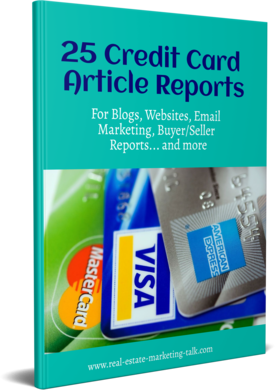 Consumers crave credit card information, especially how it impacts their creditworthiness to buy a home.  Consequently, the information is incentive enough to visit your website, read your blog, or subscribe to your mailing list... and as most marketers know, the money is in your list. >>>   
---
PLR Content for
Real Estate Newsletter Articles 
Collecting Real Estate Leads via Newsletters is one of the best real estate marketing strategies going. These 50 Real Estate Web Site Content Article Reports are perfect for newsletters and ezines. Every article set listed on this page can be used as content for newsletters  >>>
---
25 Buying a Home PLR Aricles 

Finding a home that fits one's lifestyle is one of the most challenging aspects of buying a home. It should complement their lifestyle and have a floor plan and style that buyers will love for years to come.>>>
---
Our Done For You Real Estate Website Content
is Affordable and Versatile

Here's how to use Prewritten Real Estate Website Content to generate leads, listings, and sales.

Use For Blog Posts 
Having a real estate blog is a great way to drive traffic to your website and grow a mailing list. It's an effective strategy that helps increase community visibility and connects you directly with prospective and existing clients.
However, few agents have time to maintain a blog and write posts at the frequency needed to ensure the best results.  Using prewritten articles is a great way to keep your blog updated with fresh content so your readers will continue to return to you for more information. 

Use As Real Estate Website Content
Given the competitiveness of the real estate sales industry, your real estate website needs to be eye-catching and inviting while providing lots of informative and helpful information to capture online real estate leads.
The challenge is once a website is established, its content needs to be routinely updated to remain exciting and competitive with other websites. Using prewritten articles is perfect for getting the job done. 

As Content Real Estate Email Marketing 

Arguably, the most critical aspect of real estate marketing, on and offline, is maintaining consistent contact with past, present, and future prospects. Email marketing allows you to do that and do it well. 
Real Estate PLR Content to Generate Special Reports for Buyers, Sellers & Investors    
One of the best ways to sell something is to give away something.  It's true, and agents who practice it are getting leads and closing deals while others struggle monthly. Make Buyer and Seller Reports to give away easy with our content.  
For Search Engine Optimization
Optimized website pages can help get your real estate website indexed by search engines more quickly. However, the key to this is the uniqueness and quality of your content. The more original it is, the better your search engine rankings.

Of course, there are other ways to grow your prospect list with these articles, but I'll leave it at these few examples for now. Please check back from time to time for new article sets and special promotions.
---
Sample Excerpt From One of The Articles
Ten No-Nos For a Home Buyer!
Several things should be avoided before purchasing a home. If you aren't careful to avoid these common mistakes, it is possible that your closing will be delayed or even canceled.

Your adherence to the following rules will quickly put the house's keys in your hands.

One. Don't damage your debt-to-income ratio by making a significant purchase before closing. If you decide you can't live without that brand-new BMW, you might have to wait to own a home.

The bank could quickly determine that your sky-high car payment would hinder your ability to pay your mortgage. Wait until after you get the house to do some spending.

No one expects a brand new house full of furniture and a sports car in the driveway unless you are a famous sports figure or 

---
Here's What You Can Do with These Real Estate Marketing Articles 
[YES] Can put on your website or blog
[YES] Can be edited completely, and your name put on it
[YES] Can use to make marketing reports, flyers & brochures   
[YES] Can sell
[YES] Can be given away
[NO] Can be added to paid membership sites
[NO] Can be offered through auction sites
[NO] Can be submitted to article directories
[NO] Can sell Private Label Rights
Here's a Testimonial From One of Our Buyers!
"In today's competitive real estate market, content is becoming one of the key elements in returning client to my site. We added web site content thru a very simple process of purchasing pre-written articles thru https://www.real-estate-marketing-talk.com/. Time is always precious in real estate and you are only as good as your last deal.
Buying the downloadable software we added 30 new pages to our sites in the matter of hours. Before our purchase I budgeted 300 man hours to write, review and install content to the site. In Feb 07 http://www.homechoice.com/ is rolling out a national licensing program to expand our markets across the USA and now I have an additional 300 man hours to improve other critical areas on the site.

I would strongly recommend that if you don't have content and time is limited to research, write and review then contact the people at https://www.real-estate-marketing-talk.com/ and add pages to your site today."

Once again I appreciate your service. John
John Slimak
CEO/Owner
HomeChoice.com
Giving You a Choice in Real Estate
Yes, I Want The 275 Content Article Reports $197.00
at The Limited Time Offer Price of $97.00

Was This Page Helpful?
Want to share the kind of content you're looking for, or how you intend to use it?

If you don't see what you're looking for tell us. We have hundreds of articles that we'll be releasing throughout the new year. Thanks for dropping in!
What Other Visitors Have Said
Click below to see contributions from other visitors to this page...

Happy Prospecting!

Home Page > Real Estate Web Site Content