Instant Real Estate Web Site Content -
for Articles, Blogs, Newsletters & More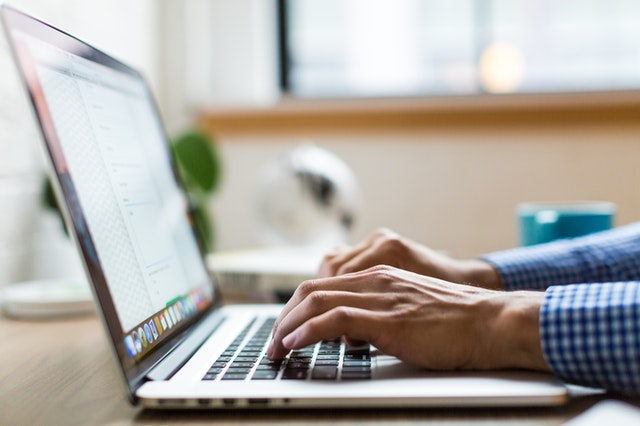 Creating Good Real Estate Website Content seems straightforward. At least until you start trying to write it; after all, it's nothing more than information penned as articles, letters, flyers, newsletters, blog posts, websites, and reports. 
And when you need authoritative content, it's no big deal to hammer out a few words, and you're good to go. Right? No! Not only is it wrong, but it's also costly!
Here's what I mean! Writing good content takes a lot of skill and time! And doing it repeatedly makes writing it more formidable. It's enough to make even talented writers want to snatch up their computers and hurl them against the wall in frustration!
Great Content Takes Time, Planning and Skill
How long does it take you to write an article? An hour? Sure, if you say so!
On the other hand, it can sometimes take me 2-3 hours to write a good article; 2-3 slow and excruciatingly long hours. In part, it's because I fuss over every detail - from time spent researching the topic to punctuation, spelling, syntax, and originality.
Do You Have Time To Write Your Own?

Maybe, but it's perfectly understandable that you don't! Because if you do, you may need to spend more time fulfilling critical tasks, like showing properties, taking listings, hosting open houses, etc.
If you write ten articles a week and it takes a minimum of 2 hours each, it would amount to 20 hours of writing! That's half a workweek!
Alternatively, $20 will buy you ten suberbly written articles. The samples below are examples of the quality you can expect. These particular ones have been rewritten and revised ad infinitum and made more informative and engaging with every revision.
Pre-written Articles Can be Used for Nearly All of Your Content Marketing Needs
Our collection of pre-written real estate website content articles are multipurpose and can be in a host of ways, including:
as content for email marketing campaigns 
as content for flyer marketing   
as blogging posts 
as articles for article marketing   
as website pages  
as special reports  
as buyer and seller letters 
as letters of introduction 
as content or newsletters and ezines
and so much more. Let's learn more about them.
10 Pack PLR Article Reports 


Lot #1: Ten Articles - Buying a Home Outside The US, Choosing a Listing Agent, Foreclosure-Buying a Foreclosed Home, Buying a Home From The US Government, etc. Perfect content for Blogs, Websites, Newsletters, Drip Campaigns, Facebook, Twitter, Newspaper Articles, etc. >>>

Lot #2: Ten Articles - Open House - How To Make The Most of The Visit, Step By Step Closing For The Buyer and Seller, Ten Common Mistakes People Make When Buying A Home, etc. >>>   


Lot #3: Ten Articles - Subjects include How To Choose The Perfect Real Estate Agent, Closing Costs, FHA Loans, Home Warranties, Interest Only versus Traditional Loans, Loan Fraud, Property Disclosures, etc. >>>   

---
Other Article Packs
Credit Card Reports! Consumers crave credit card information, especially how it impacts their creditworthiness to buy a home.  Consequently, the information is incentive enough to visit your website, read your blog, or subscribe to your mailing list... and as most marketers know, the money is in your list. >>>   

Newsletter Articles. Collecting Real Estate Leads via Newsletters is one of the best marketing strategies. These 50 Real Estate Web Site Content Article Reports are perfect for newsletters and ezines. Every article set listed on this page can be used as content for newsletters  >>>

25 Home Buying Articles. Finding a home that fits one's lifestyle is one of the most challenging aspects of buying a home. It should complement their lifestyle and have a floor plan and style that buyers will love for years to come.>>>
---
Our Best Real Estate Web Site Content Deal!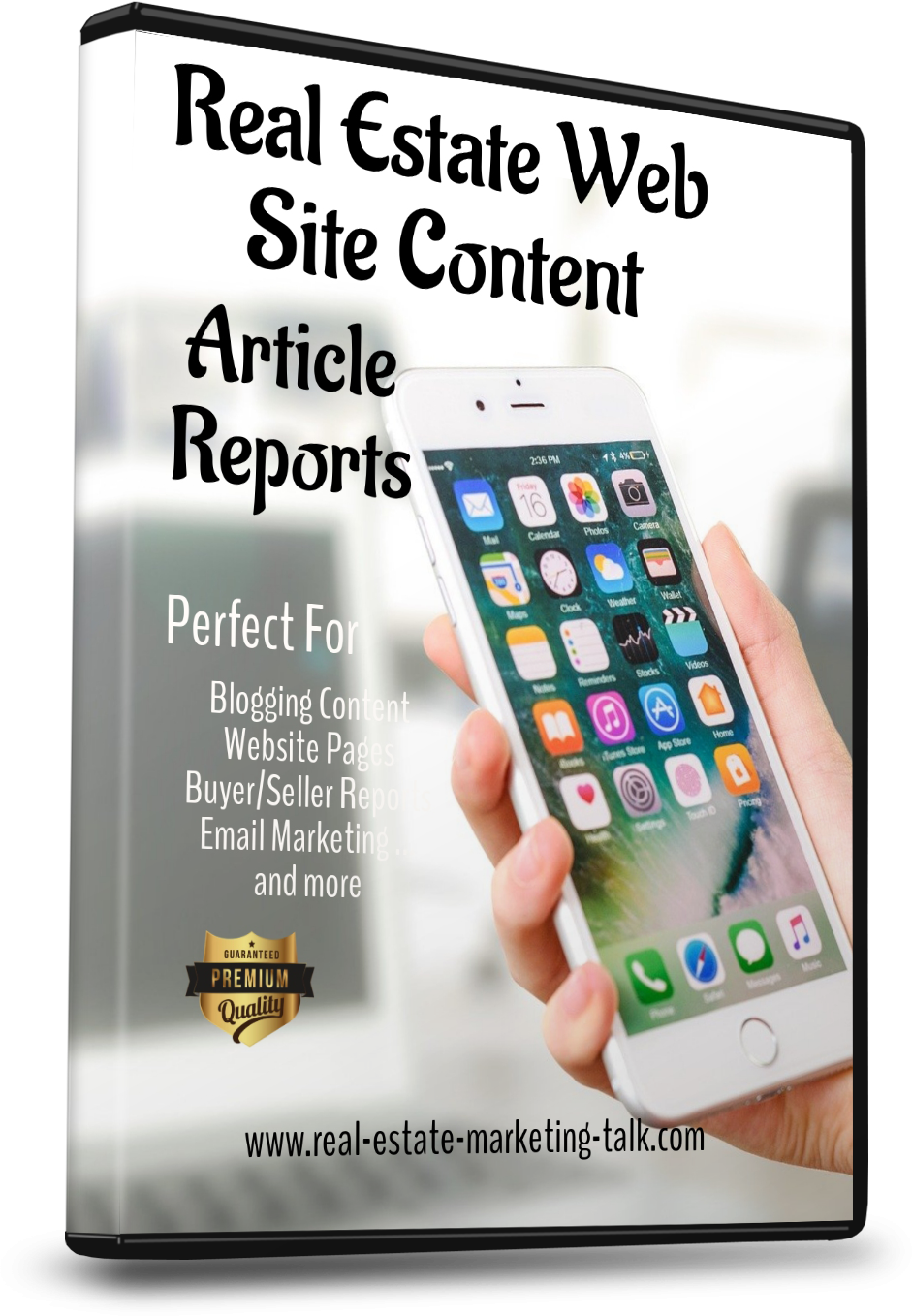 275 Content Article Reports $197.00
at The Limited Time Offer Price of $97.00

---
Here's What You Can Do with These Real Estate Marketing Articles
[YES] Can put on your website or blog
[YES] Can be edited completely, and your name put on it
[YES] Can use to make marketing reports, flyers & brochures   
[YES] Can sell
[YES] Can be given away
[NO] Can be added to paid membership sites
[NO] Can be offered through auction sites
[NO] Can be submitted to article directories
[NO] Can sell Private Label Rights
Here's a Testimonial From One of Our Buyers!
"In today's competitive real estate market, content is becoming one of the key elements in returning client to my site. We added web site content thru a very simple process of purchasing pre-written articles thru https://www.real-estate-marketing-talk.com/. Time is always precious in real estate and you are only as good as your last deal.
Buying the downloadable software we added 30 new pages to our sites in the matter of hours. Before our purchase I budgeted 300 man hours to write, review and install content to the site. In Feb 07 http://www.homechoice.com/ is rolling out a national licensing program to expand our markets across the USA and now I have an additional 300 man hours to improve other critical areas on the site.

I would strongly recommend that if you don't have content and time is limited to research, write and review then contact the people at https://www.real-estate-marketing-talk.com/ and add pages to your site today."

Once again I appreciate your service. John
John Slimak
CEO/Owner
HomeChoice.com
Giving You a Choice in Real Estate
Was This Page Helpful?
Want to share the kind of content you're looking for, or how you intend to use it?

If you don't see what you're looking for tell us. We have hundreds of articles that we'll be releasing throughout the new year. Thanks for dropping in!
What Other Visitors Have Said
Click below to see contributions from other visitors to this page...

Happy Prospecting!

Home Page > Real Estate Web Site Content