How To Get Real Estate Listings Easily

Want To Know How How To Get Real Estate Listings Fast?  There are easy ways to do it. So, if you are Sick and Tired of Nothing Working and you truly want to know how to get some then take it from Someone Who Has Been There and Done It.
"Below are the Exact Tools and Strategies I Used to Average 2 Plus Real Estate Listings a Week working 10 - 15 Leads a Day"
If you are serious about succeeding, too and want to learn How To Get Real Estate Listings Then I encourage you to read every word on this page.
---
From The Desk Of Lanard Perry
It was nearing the end of the month, just about time to pay bills again.  I hadn't sold any properties, gotten any listings or for that matter come within 100 yards of a good real estate lead. 
I had enough money to pay the next months' bills (mortgage, car note, utilities, gas and groceries), but was hard pressed to justify laying down another chunk of money for my monthly realtor fees, especially since I wasn't making any money.
On top of being near broke I was frustrated and nearing exhaustion from working around the clock seven days a week to generate business with nothing to show for it.  
I had done floor duty, toured homes, cold called FSBOs, canvassed neighborhoods and did whatever else made sense to get listings and leads to no avail.  I hadn't gotten so much as a nibble. 
Nothing seemed to  work. Still, I knew there had to be an effective way to Get Real Estate Listings - I just hadn't found it ...yet.  But I  was determined to succeed and decided to hang on for at least one more month.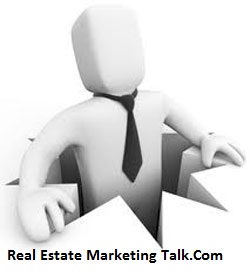 Then I Had a Breakthrough! 
I reflected on all of the lead generating ideas that I knew about, including How To Get Real Estate Leads via signage, expired home listings, fsbos, home buyers, real estate investors, absentee homeowners, internet marketing, classified ads, etc. 
And you know what?
It turns out that I already knew How To Generate Leads. I just wasn't doing it.
So, I became a lot more focused and action oriented. Suddenly, my days consisted of going to the office and getting busy
sending letters to expired listings, fsbos, vacant and/or abandoned properties for a few hours every day
getting educated about REOs, HUD and FHA Repos to sell to home buyers
making flyers of my listings and mailing them to top producing agents in my area
sourcing investors - finding out who was buying and selling and making it a point to meet them
Guess what? It worked!
Soon after discovering how effective sourcing Multiple Streams of Leads was I went on a listing tear - getting 2 plus listings a week at my peak...and sometimes 12-15 per month. 
Farming Expired Listings was at the core of my success,


but I also secured a lot of listings by farming investors, FSBOs, vacant properties, out of town property owners, etc.  It turned out that a lot of people needed my services and I was finally connecting with them. 
Amazingly enough I got a fair number of listings from other real estate agents.  They'd actually call me to tell me about potential listings and investment opportunities when they encountered properties they weren't interested in.  I listed some and flipped some. 
My "How To Get Real Estate Listings" strategies worked well, but now that I am no longer in the business they are just sitting and gathering dust, of no use to anybody..at least until now.
Now I want to Give Back...
I want to help agents just like you have the same success listing properties that I did. There are simply too many agents working way too hard for too little success.  Finally, you can put an end to the futility of it all today.  
Does the following describe you?
You've tried to get Real Estate Listings but failed to produce any meaningful results? My proven and tested strategies will change that.
You hear stories of ordinary agents generating lots of business with seemingly little effort? Now is your chance to learn how they do it and duplicate their success in the easiest possible way.
You want a simple but very effective ways to generate leads and convert them to buyers and sellers? The strategies are very easy to follow and can produce tremendous results in a very short time.
If you answered YES to any of these questions you need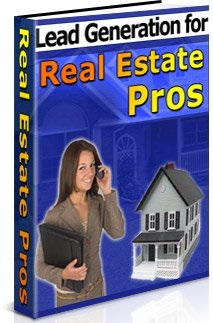 Where and How To Get Real Estate Listings
Below Are a Few of The Listing Generating Ideas You'll Learn with the "Lead Generation For Real Estate Pros" ebook.
1. How To Get Real Estate Listings via Newspaper Classifieds.  Here's the  idea.  The more your name is exposed in ads the more familiar it becomes to readers.  In turn it is therefore highly likely that home sellers will call you when they are thinking of selling their homes.  And you can even advertise the listings of other agents until you get your own.  This is a very subtle yet effective form of branding.
2. How To Get Real Estate Listings via Real Estate Web Sites.   A web site should be the primary marketing tool of every realtor.  It can be a steady source of leads, listings and sales. 
3. How To Get Real Estate Listings via Virtual Tours.   Virtual tours refer to potential home buyers getting a good look at the insides of homes through the use of the Internet, or television.  This is possible by using web based software that enables potential home buyers to "tour" in and around homes from the comfort of their homes, or your office.
4. How To Get Real Estate Listings via Signage. Perhaps one of the most effective ideas for generating listings is by way of something that's pretty much old school: signage. That's right—effective signage can generate more listings than some more expensive lead sourcing methods.
5. How To Get Real Estate Listings via Promotional Handouts. Real Estate Flyers and other promotional handouts are great lead generators.  At the end of the day, they are powerful real estate marketing tools worth utilizing.
So, Here are The Key Proven Features That Make This The Perfect "How To Generate Real Estate Leads" Resource Book.
Duplicate what others are doing to successfully generate listings

Secure listings for less than the cost of more expensive lead generating sources

Work less and prosper more

Forget cold calling - at least if you want to

Start sourcing for listings in less than one hour

Work from home, or the office 

 Get more listings, close more sales
 Try Lead Generation For Real Estate Pros risk free with my 100%, Ironclad money-back guarantee.  There is no reason not to try Lead Generation For Real Estate Pros. It is 100% risk free and my Ironclad guarantee assures you total satisfaction. 
If for any reason you are not satisfied, just contact me. I will refund 100% of purchase price, quickly, no hassle, no questions asked. That's how confident I am about this product .
Try Lead Generation For Real Estate Pros Today...
Try it out for three full months - absolutely risk free.  You have an entire three months to use Lead Generation For Real Estate Pros risk free. If at anytime you feel unsatisfied, let me know and I will refund 100% of your purchase. It's as simple as that.  I guarantee you will love this ebook.
With our
12 Week Money back Guarantee
You can't lose!

Normal Price: $49.00
Today Only $29.00

Here's how to order right now!

Click here for an instant download of the digital book. Once your credit card is approved, you will be taken to a special download page where you will download the digital book.


INSTANT ACCESS
Purchase Online with Credit Card by Secure Server

Click Here NOW to download your copy!
It doesn't matter if it's 2:00 a.m. in the morning!

You will be downloading and reading this incredible resource within just a few minutes..
To Your Listing Success,  
Lanard Perry
P.S. -- For less money than the cost of a decent lunch for two you can discover and imitate the exact same strategies that many successful listing agents use.
P.P.S. -- Ok here it is: If you pass up this irresistible offer, you will never know if you can generate 3, 4 6, 8 or 10 or more listings a month. Will you be any closer to your dream of real estate marketing success? If you order now, I guarantee that you will.   
Act now! Buy now! Your satisfaction is guaranteed.Click here!

Related Pages:  Real Estate Articles Main Page
Home Page > More Real Estate Lead Ideas >> How To Get Real Estate Listings