Real Estate Advertising Flyer
Real Estate Advertising Flyer. If you could enter a zip code of your listing and immediately view the number of agents in that area who could receive a flyer advertising your listing would you be interested? 
Of course you would!
Well, that's exactly what you can do with Email Flyer Ads. 
They have a sophisticated mapping system that allows you to enter the zip code of your listing and immediately view the actual number of real estate agents that will receive an email flyer from you about that listing. 
That's pretty powerful.
With the click of your "send" icon on your computer you can advertise your listings vial email flyers to agents in your community, state, and throughout the US.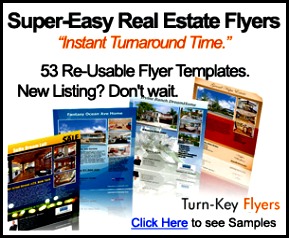 Sure, they might find out about it via your local MLS, but a special from you about that listing gets their attention in a more profound way.  .
Real Estate Flyers are an effective way to build a brand.  Your flyers will give you name recognition and help you establish professional relationships with your peers.  If they know and like you they will network with you, thereby increasing your chances of making more sales.
I used flyers in this way whenever I got new listings.  I'd get a listing and the agents in the MLS system would get a flyer from me via the MLS system.
But with Email Flyer Ads you can do it via email, faster and more cost effectively within 24 hours of your order being approved.
I don't know about you, but I can get excited about the business building, name branding, lead generating possibilities this service offers.  It' perfect for announcing
new listings
price reductions
open houses
condo conversions
rentals
and all things related to real estate
So, go ahead; click here  to check them out.  It'll give you a new understanding about the power of Real Estate Advertising Flyers.
"Why wouldn't you use real estate flyers? They're low cost and you can use them to reach a huge, untapped market."
Home Page > Real Estate Flyers >> Real Estate Advertising Flyer