Real Estate Flyers

Real Estate Flyers come in a dazzling array of choices; from old school design to click, type, drag and drop functionality for immediate print and distribution via postal service and social media syndication.
And no matter how you distribute them they're received with no shortage of appeal. Perhaps it's because attractive, well designed flyers engage readers in ways that few other marketing materials do... which is exactly why you should be using them.

Is There A Best Real Estate Flyer Template?

I think so and in my humble opinion it would would be Turn-Key Flyers! Specifically designed for busy Do It Yourself agents like yourself, their Templates can be Ready to Use in 4 Simple Steps. You can create & be ready to distribute them in minutes. 
Plus, Turn-Key offers an array of template packages, including;
Commercial Real Estate Flyers (55 Designs) – Single User License
Dream Home Flyer Templates (7 Designs) – Upscale Magazine Style
Multi-Property Market Update Farming Package
Open House Kit – Get More Leads from Your Listings
Specialist Package – Multi-Purpose Flyers
Top Producer Package (53 Designs) – One Agent
Top Producer Package (53 Designs) – Two Agents
And best of all you get to try them FREE for 60 Days and if you don't agree that they are the easiest real estate flyer templates that you've used they'll refund your money...guaranteed!  Click here to learn more.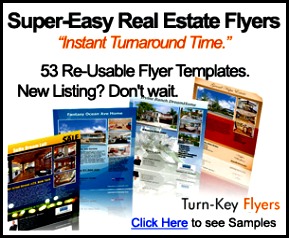 Click Here To Learn More
Real Estate Flyer Templates
Articles, Marketing Ideas & Services

Want more? Then check the flyer possibilities and marketing ideas below.

Real Estate Listing Flyer; Compose, Download and Distribute
Are you sending flyers to other agents?  If not you should be.  Despite being a proven concept, many agents simply don't do it. Go figure, as you can design, build and distribute flyers for relatively little cost while generating impressive results. 
Flyers for Real Estate; Lead Generation Ideas - The point of flyer marketing is to provide enough information to generate your desired response, whether it's a phone call, email message, subscription to your newsletter or whatever it might be. And it works, so it's baffling that few agents use them when so many are aware of their effectiveness.  Are you using them yet?
Free Real Estate Flyer Template - If you Google "Free Real Estate Flyer Template" and you'll get more results than you could hope to look up in a life time.  So, I've done it for you and offer up some of the best of the best and most interesting results.
Free Real Estate Flyer Templates - Some people think "cheap looking" when they think about Free Flyer Templates, but some have a "wow" factor that's off the chart!
Real Estate Advertising Flyer - Establish a brand in record time. Use flyers to announce and promote new listings, solicit more buyers and network with other realtors.  Although not as sexy as automated 800 call back systems they can be pretty darn effective and might turn out to be a fast start to becoming a Top Producer.
Real Estate Agent Flyer; This Is How To Do It - Got a listing that just won't sell?  Try promoting it with a flyer.  Make hundreds of copies and hand distribute them.  Place them on car windshields wherever people gather; sporting events, shopping malls, business parks, hospitals, parking garages, etc. 

Real Estate Agent Flyers; Turn A Stream Of Leads Into A Flood - Everyday across the United States thousands of people are interested in buying and selling real estate.  In many instances they are looking for an agent to help them out.  You can become a ... 

Real Estate Brochures and Flyers - Real Estate Brochures and Flyers are simple, low tech marketing tools.  Once you've designed and built what you want they can be part of your ongoing marketing efforts for years to come. Take charge of a niche market....
Real Estate Flyer Boxes - Flyer boxes come in every shape, size and material imaginable. From clear plastic to color metal you can find one that matches your needs and specifications.  And the advantage of using flyer boxes of course is that they can...

Real Estate Flyer Design - Eye  pleasing colors, fonts and designs.  Just point and click to design your own from pre-made templates, or upload and use your own originals made from scratch.
Real Estate Marketing Flyer; Thinking Outside of The Box - A Real Estate Marketing Flyer Campaign initiated today can generate business for you tomorrow. Might you be interested in immediate gratification like this? See EZ to implement career changing ideas.
Browse our Flyer Articles below for ideas on how to use flyers to grow your business and income. Click on link and/or images to read them.

Home Page > Real Estate Flyers