Convert Real Estate Press Release Leads to Paying Customers
Real Estate Press Release Leads. Although many agents don't take advantage of them Press Release Leads can lead to more

business opportunities.  The test is to ask veteran agents in your office if they have ever issued one and you'll probably be told no!
Real estate marketing is similar to having multiple streams of income, but the focus is multiple streams of leads rather than income. 
Press releases are one of many different lead generators that you use to generate enough leads to ensure that you have a long, successful career in real estate sales.
What Real Estate Press Release Leads Can Do For You

Essentially, press releases are free advertising means to get a message across about you and the services you offer, specials that you are promoting for the greater good of the community that you live in,  updates about your company, etc. 
A successful real estate press release can reflect your approach, company's philosophy and whether you are friendly, reputable, trustworthy and dependable.  It can say a whole lot about you in a few sentences.
But a press release is not magical.  Instead, it's actually a serious campaign which is created in order to bring a desired and specific outcome – and in the real estate world that is leads, and more importantly sales.  Actual leads and sales are the best indicators of how successful or not successful a particular press releases is.

Real estate companies put out press releases in varying forms and on varying occasions.  Press releases typically project a positive image of the agent, or company.  Such is the case of the company Cendant wherein their October 2005 press release touted that the system they are using was able to gather valid leads of up to two hundred thousand which they were able to amply distribute to their real estate agents.

They also explained the process of how they came up with the numbers and how competitive the lead generating system that they are using is, thus making them able to keep up with the market. 
Three Real Estate Press Release & Distribution Services To Consider

Following are Distribution Services for Three Real Estate Press Release Leads. Hope You find them helpful.

RNewswire.com – PR Newswire is the authoritative source of news and information for leading businesses and organizations and is the heavyweight of Press Release Distribution website services.  With a global ranking of 3,111 and a behemoth 50,000 links to its site is a press release distribution juggernaut.
While you might think that national exposure for little old you at your local level could be beneficial think again.  Its services could help you establish a substantial online presence pronto!  Here's how:
It has the world's largest network. It distributes to more than 200,000 media points and 10,000 Websites, offering the most ways to reach your audience online and off.  
It pioneered the industry and has been in business for more than 60 years and has supported thousands of the world's leading organizations from Microsoft to Pepsi. Why shouldn't you be next?
PR.com – PR  has a global ranking of 16,000 and an impressive 6,885 sites linking to it as of the time of this writing (2/1/14).  Distribution channels include Google News, Bing News, Major Search Engines (Google, Bing, etc.), News RSS Subscriber Databases, End User Media Subscribers and Premium Websites like Boston Globe and Miami Herald. You can sign up for a Free Account and Press Release Packages range from $30 to $100.00.  Want instant exposure?  Do a local and National PR Release!
PRUnderground.com – In addition to getting your announcement into Google News and out to social media, press releases on PR Underground are also syndicated to 100 regional news sites including Boston.com, International Business Times, Cincinnati.com, Housingwire.com, Restaurant News, Pittsburgh Post-Gazette, AZCentral.com, SiliconInvestor.com and the Miami Herald. 
And the cost?  Prices start at $39.00.  I haven't used PR Underground yet, but with all of this I can hardly wait to get started.  In fact, I plan to distribute a press release through them later this month (February 2015) and will update this article and let you know how things turn out if I remember to do it. Click here to learn more about them.

There Are No Guarantees, But...

When utilizing a Press Release Program there is no guarantee of anything miraculous happening.  However, what it will do for you is inform the public of what you, as a real estate company, or agent, are doing and the various ways, means and forms that you are able to achieve your company's objectives. 

Summarily, real estate press releases offer ways to receive great publicity that many agents simply don't take advantage of.  Are you a volunteer at your child's school – work it into a press release angle.  Volunteer as a youth league coach – work it into a press release, too. And at a local level you can get them for free!

More Real Estate Lead Generating Ideas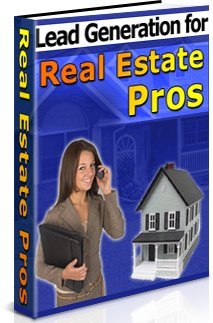 Click Here For Mored Lead Ideas
Home Page > Real Estate Leads >> Real Estate Press Release Leads