The Complete Idiots Guide to Buying Foreclosures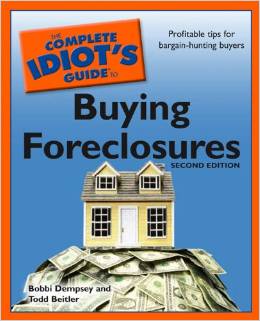 The Complete Idiots Guide to Buying Foreclosures.
Would what you know about buying foreclosures barely fill a teacup? Do you consider yourself a 'complete idiot' when it comes to real estate ownership and investments, but you want to know more to become a savvy investor?
If your answer is yes, you might want to check out authors Bobbi Dempsey and Todd Beitler's complete guide to buying foreclosures!
A thing that makes it complete is that they walk you through the buying process from start to finish, beginning with how to find and finance foreclosed properties, as well as properties that are soon-to-be foreclosed while maintaining the highest potential of financial return to you.

Things have changed in the field a bit, such as the way banks and the government dispose of foreclosed properties.  Laws have changed as well and this guide takes into some of those events into consideration, providing your optimum return and advisable counsel on how to avoid costly scams, for example..

In recent years foreclosures were historically high because of the recession and even though the economy is improving opportunities to make money buying foreclosures is expected to continue being good. 

Foreclosure expert, Todd Beitler and punctuated author Bobbi Dempsey provide this guide so you can capitalize during these times. The First edition sold more than 30,000 copies in a year and a half and this Second edition is highly rated by Amazon's customers, 4 out of 5 stars.
So if you're ready to get expert advice on finding bargain buys in your area, learn idiot proof tips on avoiding common and costly mistakes, and discover profitable pointers on financing your purchases this guide is for you. Click here to read more about it!
Related Links You Might Like  
Using Other People's Resources     


Home Page > Flipping Real Estate >> The Complete Idiot's Guide To Buying Foreclosures