Free Real Estate Flyer Template

If you google "Free Real Estate Flyer Template" and got more that 31,000,00 results... more than you'll have time to review. The sheer number of possibilities can stop you in your tracks.  However, because your time might be better spent attending to more important matters than reading search engine results I've done the work for you.

Specifically , below is a summary of what I think of as the Top Four Template Options...  and all four have a 100% Free Trial Period. Let's get started.

---
Realty Juggler
You can try Realty Juggler's real estate flyer software 90 days for FREE... and with more than 101 Templates it might very well be worth your time. And FREE means FREE...you won't be charged anything, nor will you need a credit card.  And should you decide to subscribe to the service it'll only cost you $179 For a Full Year. Read more >>
---
My Listing Flyers
MyListingFlyers offers a a simple tool designed to help Real Estate Agents design high quality, professional listing flyers with two plans...
1) Forever Free with 6 templates and 5 backgrounds. Per this plan agents can create an unlimited number of flyers and save, print, or distribute them in any various ways. Each free flyer is branded with the My Listing Flyers logo...and 
2) With Premium, which includes all of the features of Forever Free as described above, plus over 20 templates, dozens of backgrounds and hundreds of different combinations.
---
Smart Draw
Studies show that communicating with visuals is up to 6 Xs more effective than with words alone, yet less than 3% of business communications include visuals.  That's where Smart Draw comes in.  Creating stunning visuals just got a whole lot easier with its Trial Download. 

---
Our Top Recommendation For Flyer Templates is...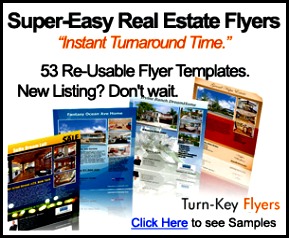 and it is #1 For ALL The Reasons Below, beginning with the fact that you can try them on all your listings 60 Days for FREE. 

Since the initial writing of this page Turnkey Flyers expanded its offering of 53 Re-usable Flyer Templates.  It now offers all of the following: 
Commercial Real Estate Flyers (55 Designs)

Upscale Magazine Style Dream Home Flyer Templates (7 Designs)

Multi-Property Market Update Farming Package
An Open House Kit Designed To Help You Get More Leads from Your Listings
A Set of Multi-Purpose Flyers... and   
A Turnkey Top Producer Package For One Or Two Agents (53 Designs)

Home Page > Real Estate Flyers >> Free Real Estate Flyer Template