New Generation Real Estate Marketing - Create and Market Virtual Tours
New Generation Real Estate Marketing. However you look at it, the Covid-19 pandemic upended the real estate market. It forced agents to reexamine how they go about building and maintaining customer relationships.
When the coronavirus hit, online digital marketing accelerated in ways unforeseen by many marketers. For one, consumer expectations about what they wanted from their digital experiences changed. Specifically, they wanted more personalized experiences with their journey to homeownership, real estate sales, and investments.

So, "how have agents adjusted to this New Generation Real Estate Marketing Crisis?

Some have turned to Virtual Real Estate Marketing. The idea here is simple. Upload pictures of your listings to a host website and arrange them in the order you want. Then have agents and prospects log onto their computers and click on links that bring up your tours.
In some instances, the viewers can manipulate Virtual Tours as you would with your tv remote control. They can freeze-frame, rewind, fast forward and stop them - all from the comfort of their offices, homes, on their cell phones, or wherever they can access a computer hooked up to the Internet.
Create & Design Professional 360º Virtual Tours From Your Phone


One company recognized as a virtual home tour business leader is CloudPano.com. Its app allows you to use an iPhone camera to create 360º photos that will automatically be linked together to tell the best story of the property you showcase. Perhaps best of all is the fact that no coding is required. 
CloudPano takes virtual selling & engagement to a new level. With its application, you can create and display virtual tours in 360º and Virtual Reality (VR) in approximately 5 minutes. It's easy! How Easy? 

You can upload photos using its drag-and-drop interface
Set an initial view for each scene with a single mouse click, and
Add hotspots to navigate your tour.
Next, you can share and display your tours with a single URL link on any smart device. 
Why Are Virtual Tours Important in Real Estate?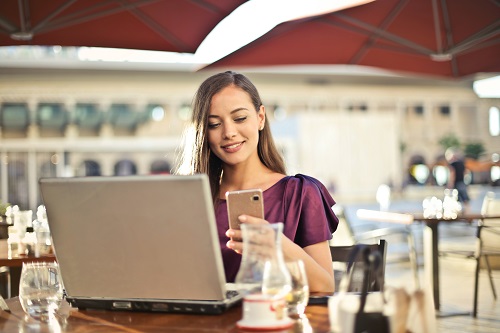 Virtual tours are a relatively new marketing tool real estate agents utilize to fuel their businesses growth. They provide abundant benefits, including increased search engine rankings and better buyer experiences that lead to improved chances of selling the property. But there are many, many more!

Ten Benefits of Virtual Tours & New Generation Real Estate Marketing

Virtual tours offer a multitude of benefits that are ranging and powerfully effective. Overall, they spark intense curiosity in people, with them naturally wanting to know about what you can offer. Here are ten ways they can benefit you right out of the box. 
Save time. With virtual tours, customers and clients can see properties on their laptops and smartphones from the comfort and convenience of wherever they happen to be, in near instant and real-time. If that happens at 2:30 AM, that's all the better for you. 


Cut costs. Instead of hopping in your car and driving across town to show a prospect a property at the expense of $4-$6 a gallon, you can email or text them a link to tour it virtually. They're the ultimate tool to provide advanced showings of listings for casual lookers and make subsequent follow-ups with personal showings all the more productive. 


Get more website traffic. Visual tours is a cutting-edge technology that can drive massive traffic to your website. As a result, you'll attract more clients. Purportedly, virtual tours receive over 40 percent more clicks compared to those using images. More clicks translate into higher traffic stats and increased sales. Additionally, your real estate website will rank better in search results.


Reduce your website's bounce rate. With a virtual tour visible on your homepage, visitors are likely to stay on the website longer and are more likely to return. People are intrigued by interactive content and are more inclined to remain on the page and navigate to other pages to learn more about your business. 


Get social media love. Over half of the world's population uses social media platforms like Facebook, Instagram, and Twitter. Therefore, they are natural places to reach new, highly targeted potential customers. There you can drive traffic to your website or blog with posts, ads, participating in chats, and more. Search engines love it and will likely reward you with increased rankings and visitors. Include your website address in your social media profiles so people can learn more about you with one easy click. 


Get quality backlinks. Search Engines love and reward videos with high visibility and rankings. Virtual Tour Videos are highly favorable for generating high-quality backlinks. Consequently, they are perfect for sharing on social media, with links pointing to your websites. 


Stand out from the crowd. How many agents do you know who market Tour Videos? Probably few! Consequently, it may be the most favorable thing you can do to kindle your lead generation success.


Increased convenience. Arguably, there are few things about real estate marketing that are convenient. Nonetheless, as noted above, Virtual Tour Marketing is one of them.
Do Virtual Tours Help Sell Houses?

Absolutely. Virtual tours can help you reach a larger pool of potential buyers. As more buyers sort through listings from the comfort of their homes, a virtual tour can help your home listing stand out. And it's not just younger buyers taking advantage of virtual tours. They're popular with all adults, no matter their age.

Summation
95% of home buyers use the Internet to look for homes & 51% of people buy houses they found online. So, it makes sense for marketers to go where the buyers and sellers are going to look for real estate- online! And Virtual tours are the marketing tool to provide what they're looking for when you do!
Related pages you might like
Click Here To Learn More About CloudPano
10 Truths About Marketing After the Pandemic: 2020 was a challenging year. While 2021 was better, things did not revert to the old normal. Those days are history. Now, Post-Covid 19, marketers (real estate agents and others) are still thinking about the takeaways from the pandemic. What can they do to help grow their business in this new normal?
Blogging for Real Estate Leads: Blogging may be a marketer's best tool! In addition to being fun, it is an unarguably effective way to establish a new real estate business or grow an existing one! With one, you can dominate your competitors, cultivate a renewable source of leads, and make money doing it. Learn more about this terrific marketing technique. 
Email Marketing for Real Estate Agents: A primary objective of email marketing is to have people request information from you. In exchange, you get their email address and other contact information for future contact and follow-up. Here are some examples of how to put the strategy to work for you today!
Home > Real Estate Agent Marketing Tools >> New Generation Real Estate Marketing