4 Sure Ways To Generate Real Estate Leads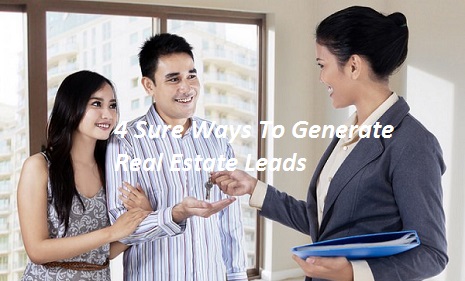 If there was ever a shortlist of 4 Sure Ways to Generate Real Estate Leads, the following strategies would almost certainly be on it!
And when fully integrated into marketing plans, they can positively impact one's immediate and long-term success! Here's a look at them!

Here are Four Ways To Succeed
Referral Marketing
Buyer/Seller Workshops
Parade of Homes
Email Versus Newspaper Advertising
Referral Marketing
1. Referral Marketing is a method of promoting products or services to new customers through recommendations from past customers, neighbors, coworkers, family, friends, and other people you know.
And they're typically made by word of mouth when something that is said causes someone to think of and recommend you.
However, to maximize referrals, people must know you're a Realtor.  So, commit right now to contact every single person in your cell phone and email contact address book in the next seven days. Do it whether you're a new or veteran agent.
If you're newly licensed, tell them you want to share that you're in real estate sales and ask them to please think of you if they know or hear of anybody interested in buying, selling, or leasing real estate. And if you're a veteran agent, you're contacting them to say hi and ask them if they know of anybody interested in buying or selling, and if so, ask for referrals.
Yes, I know that this is Real Estate Marketing 101, but let me ask..." when was the last time you did it?" If it's been over a year, you're way overdue and may have lost out on some opportunities. So, stop being shy (or lazy) and ask your network of friends and relatives for referrals. More often than not, they'll be happy to refer them to you. Return to Top
Hosting Workshops
2. Hosting Workshops is the 2nd of 4 Sure Ways to Generate Real Estate Leads. Most attendees are motivated to transact a real estate deal of some kind and are eager to move forward with the right coaching and encouragement. And a great way to facilitate engagement with them is by providing helpful information that will help them make informed decisions.

While you can host buyer and seller workshops, I recommend doing them for buyers, primarily because sellers have at least bought a home before and arguably know more about real estate than buyers do.
Start by offering it as a home ownership resource to pastors for their congregations, businesses to their employers, or neighborhoods. You can also target invitees by profession (nurses, firefighters, law enforcement officers, barbers, cosmetologists, dental hygienists, etc. You can locate them via accessible databases by trade or services that offer fee-based mailing and phone lists. You can also post and distribute flyers where people gather to shop, work, exercise, play, worship, etc. Finally, you can also publicize via Social Media channels; Twitter, Facebook, LinkedIn, your website, etc.
These are a sampling of non-mainstream ideas and strategies for finding workshop attendees that are not meant to be comprehensive.
Finally, if there's one thing to take away from this article, it's this...market and promote your seminars aggressively! When you do, you're likely to get the attendance you desire...and that can be parlayed into sales and commissions. Return to Top
Parade of Homes
3. Parade of Homes is the 3rd of 4 Sure Ways to Generate Real Estate Leads...and is a great lead generator. That's because most people who attend them are the ones that are most likely interested and have plans of buying homes. Plus, they'll be more motivated to buy once they have seen the actual condition of the house they want. Here's a closer look at organizing them to leverage the most prospects. Return to Top
Email Versus Newspaper Advertising
4. Advertising in printed media (newspapers and magazines) is the 4th and final lead-generating idea. Once upon a time,  it was the absolute foundation of how agents went about marketing homes for sale...and it is still an effective way to generate leads, although there are fewer printed newspapers to advertise. Another downside is that it can be costly and challenging to sustain newspaper advertising campaigns. And you know the saying, once you're out of sight (the ad stops running) you're out of mind.

Fortunately, there are many viable and effective ways to advertise for leads. Some that quickly come to mind are direct mail campaigns with real estate prospecting letters, flyers, and postcards. Presently, favored advertising methods include email marketing. Relatively inexpensive, email marketing offers the unique advantage of building a list of followers eager to hear from you relative to their specific interests. Return to Top
In closing, real estate lead generation can be daunting, but it is still the you must do to ensure a long and prosperous career. Happy prospecting!
Home Page > Real Estate Leads >>  Sure Ways To Generate Real Estate Leads