Direct Mail Post Cards  - Old School Lead Generation, New School Application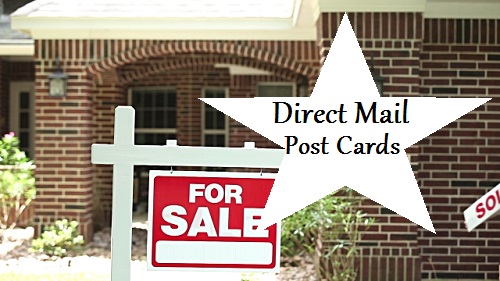 Direct Mail Post Cards
Sending direct mail postcards through the mail may be old-school, but it's still an effective and popular lead generation strategy. And when combined with email marketing, pay-per-click campaigns, retargeting, and video advertising, it can be a renewable source of warm, ready-to-do business with your leads.

However, just sending postcards alone is not enough. Your messages must be attractively presented and uniquely stated to get your desired responses. Consequently, taking time to reflect on your target audiences' needs and delivering it is very important.
Creating and delivering something that will get their attention and have them respond to you in your desired fashion should be your top goal, which is made easier with customized postcards.
Customized Direct Mail Postcards
Yield Better Results

Nowadays, it's easy to create custom postcards, flyers, brochures, and newsletters with online design tools. Many online providers offer "click and go" type services with professionally designed templates that look highly polished and inexpensively made. All you have to do is click on the attributes and features you're most interested in, and off you go!
With direct mail postcard templates, you can
Effortlessly reach out to your audience by sending high-quality direct mail postcards, flyers, and more. 


Boost your lead generation 


Establish your brand as the preferred agent to do business with, and 


Create a consistent flow of responsive prospects. And the best part? You'll save money while doing it. 
When it's all said and done, you can set yourself apart from your competitors with a uniquely designed direct mail post cards marketing campaign. Then, watch your business soar to new heights.
Generate More Leads with Less Time and Effort

Direct mail postcard marketing offers businesses an effective strategy to generate more leads while saving valuable time and effort. Designing, printing, and distributing postcards is relatively easy and efficient compared to other marketing methods. By leveraging direct mail, businesses can reach a targeted audience and capture their attention with compelling postcards. This enables them to generate leads without extensive manual outreach or time-consuming marketing efforts.
Create a Steady Stream of Responsive Prospects

A primary benefit of direct mail postcard marketing is its ability to create a steady stream of responsive prospects. By crafting well-designed postcards with persuasive messaging, businesses can peak the interest of potential customers and encourage them to take action. Postcards' captivating nature can capture recipients' attention quickly, making it more likely for them to respond positively to the marketing message. As a result, businesses can enjoy a consistent flow of interested prospects more likely to engage and convert, thereby creating a steady stream of responsive leads.
Brand Yourself as the Agent of Choice

Direct mail postcard marketing allows businesses to brand themselves as their industry's agent or business of choice. By consistently sending high-quality postcards to their target audience, agents can build brand recognition and establish themselves as authorities or experts in their field. The regular presence of their postcards in the recipients' mailboxes helps create a lasting impression and increases brand recall. This enhances credibility and reputation, making prospects more inclined to choose the services or products offered by the business over their competitors.
Effective, Rapid Start Example / How To Use Direct Mail Post Cards to Generate Real Estate Leads
1. Choose a neighborhood to farm; condos, high-end homes, country estates, move-up homes, etc.
2. Design or purchase a series of real estate marketing postcards to start your direct mail campaign.

3. Begin mailing your postcards on a scheduled basis, at least once a month, with particular emphasis on holidays.
Practical Application of Direct Mail Post Cards
Design and mail postcards for any priced neighborhood. Let's use a million-dollar neighborhood for this example. And it doesn't matter whether it's your listing or not. 

Remember, you're part of a Multiple Listing Service and can sell any house listed within your service. You can also advertise and market any and all houses in that system, with permission from the respecting listing agent and broker's office, even when it's not your listing.
The best practice is to get the permission in writing to avoid misunderstandings. 
Next, get ready for some leads. Somebody will call or email you wanting to know more. If you're on top of your game, you can get a listing, make an appointment to show the property, find another property for the interested party, or maybe even get a referral.
So, can you see how mailing a couple of hundred high gloss, impressive-looking direct mail postcards to a move-up neighborhood can increase your business? I can, too!
Wrap Up

A farmer plants a crop and then waters, fertilizes and nurtures it to harvest. This same concept applies to "farming" neighborhoods via direct mail campaigns.
Sending postcards is the "planting" of the crop. 
 Monthly mailings are the equivalent of tending to the crop.
 And finally, the listings and sales you'll get from your farming efforts will be harvesting your crop.
Home Page >  Real Estate Postcards >> Direct Mail Post Cards