Real Estate Flyer Design
Real Estate Flyer Design.  I think flyers are grossly underutilized and if you're not using real estate marketing flyers right now you're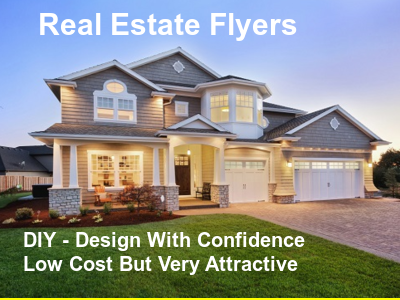 in for a pleasant surprise, as they are great tools for generating leads, listings, sales and growing your brand- and that's what you need, right?

See How Much More You Can Accomplish with Real Estate Marketing Flyers
Does this sound like you?  You're either not using  flyers at all, haven't used them in a while, or you're under utilizing them by not using them consistently.

How close am I?  Pretty close I bet!
But there shouldn't be any shame in that, but there should be if you fail to make them a regular part of your marketing strategies after reading this article. 
After all, flyers are so easy to design and print these days there's no valid reason for not using them to generate leads.
Effective Real Estate Flyer Design
... is made easy by a plethora of real estate flyer templates available to agents today, which are literally as easy to find as going online, finding templates you like, pointing and clicking to design and bam..out comes a slick, professional flyer ready for distribution. 

Our Top Recommendation For Real Estate Flyers is Turnkey Flyers
Turnkey Flyers features easy edit and print templates. Available for immediate download and you get to try them risk free!

The link below is an affiliate link. So, please know that we may be paid a commission if you purchase anything through it. However, it won't cost you any more money because of it.


Click here to see 5 Minute Video Showing Just How Awesome They Are!
Flyers Are Versatile
You can use them for
gathering buyer leads
announcing open houses
as information sheets in open houses
to announce price changes and solicit buyers
to market your listings to other agents (they have the buyers)
marketing new home sales
and this list goes on and on
And perhaps the best thing about flyers is you can use them almost anywhere people will look; on light poles, counter tops, on doors, under doors, in screen doors, in mail boxes, under doormats, on automobile windshields, handing them out in stadiums, concert halls, movie theaters, shopping centers, grocery stores, etc.
Here's a video about Showmi, an interactive, multi-touch property brochure for the iPad. The Showmi real estate flyer template is built for apartments, condos, homes, or complete realtor portfolios. With Showmi's customizable flyer templates, buyers can view photos, see floor plans, read property information, watch HD videos, and even send emails. I think you'll find it makes for easy to do real estate flyer design.

Home Page > Real Estate Agent Flyers >> Real Estate Flyer Design