Sold Postcards for Real Estate 
Are For Striking When You're Hot

Sold Postcards for Real Estate are all about "seizing the moment" and striking while you're hot. And what better time is there 

Sold Postcards for Real Estate
than just after you've made a sale. Why?  Because neighbors of just sold listings, whether they're interested in selling or not, are eager to learn about
who's moving into their neighborhood, and 

what homes are selling for as it relates to the value of their home. 
In short, they're interested in keeping up to date on sales activity and trending the data so that if and when they decide to sell they'll have some sense of what their property is worth.
Through regular mailings you can create your own recognizable, brand of one. Throw in a catchy phrase or two and you could be the next "You're In Good Hands with ---."
By providing recipients with timely information about listings and sales you can have them looking to you for help with their interest in buying, selling, leasing and investing in real estate.
Five Ways To Maximize Use of
Sold Postcards for Real Estate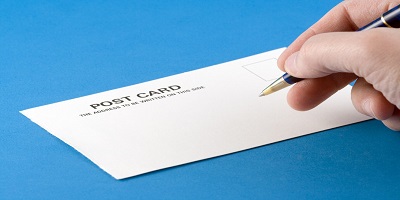 Effective marketing is a matter of numbers, so the more people who know that you just sold a listing (whether it's or not you were the listing agent) the greater the reward will be for you.   Therefore. whenever you sell a listing you should at a a minimum mail Just Sold Real Estate Postcards to homes in the subdivision where the sell occurred. Following are ideas to magnify your success!

1. Target Sellers. With sellers a main point you want to highlight is that in marketing the home for sale you have a hot list of buyers still looking for homes… and that you'd like an opportunity to sell one of them their home!  Once you get interested sellers into your contact list you can drip mail them offer professional assistance with helping them to ready their homes for sale, staging them for best showing results, getting the best rice for their home and the like until you effectively convert them to new listings!  

2. Target Buyers. Give them confidence that you can do the same for them. Understandably, your communications will tilt towards offers to help them find homes, too, through a better understanding of the buying process: specifically, homes they might be able to own for the same as rent, how to pre-qualify for mortgage loans, how to rehab their credit if needed in order to qualify for a new mortgage, an enhanced understanding of creative financing options and the like.
3. Target Renters. Announce the sell of the property and target renters at the same time.  Identify rental communities and mail Sold Real Estate Postcards to them with the main emphasis being to capture their contact information for email/text marketing follow-ups until you convert them to buyers. Their landlords might not like you, but who cares!
4. Target FSBOs. Instead of sending conventional fsbo letters, flyers or postcards Sand out from the crowd by send them Sold Real Estate Postcards.  It's sure to grab them as interestingly different than other communications they may have received and jump you to the front of line for consideration as an agent to do business with.   
5. Ask for Referrals – From Buyers and Sellers – and Get Them. Every time you sell a listing you should ask your clients for referrals, get their names and contact information from them, then follow up by mailing just sold postcards to them.  Similarly, every time you get a listing you can circulate postcards about it to generate referrals.  Send it to neighborhood subdivision homeowners, your mailing list of prospects, hand distribute them by placing them on parked cards, pinning them on billboards, etc.  
You can amplify these strategies and increase your results by circulating a combination of postcards, flyers, letters, newspaper inserts, etc.
Quantum Digital - Using Sold Postcards 
1 Minute Video Shows How Fast It Can Be

Companies That Sell Sold Postcards for Real Estate   
Vista Print     
ReaMark         
Prospect PLUS  
Quantum Postcards  
Postcards.com


Home Page >> Real Estate Postcards >> Sold Postcards for Real Estate