Real Estate Agent Website Primer

If you don't have a website or blog, there's a high probability that you're irrelevant in a competitive market! Consequently, you may be suffering from "lack of leads syndrome." The one where you may need help generating enough income to cover your monthly costs (MLS, Office Dues, Advertising, Gas, etc.).

But that doesn't have to be! With an abundance of affordable real estate agent website templates readily available for a quick start build, you can show the buyers, sellers, investors, builders, and others in your market, or the world for that matter, just how relevant you are. A website display of starter homes, luxury condos, and other dwellings can have potential clients flocking to your website, unable to resist your offerings.
 Effective Real Estate Websites Don't Have To Be Complex

The simplest form of a real estate website can be a simple site that tells visitors about your real estate agency, what you do, and what services you provide. It may or may not contain real estate listings.
No matter what it is, it should be visually appealing and easy to navigate. Keys to making a simple site great include making it look the way you want it to look with lots of pictures and descriptions of homes you're marketing. In the absence of listings, your draw could be the offering of lots of freebies, guides, and reports specific to their real estate interests. It should also be able to capture and follow up on leads... and that's for openers.
Big Business Real Estate Website Designs

My random review of Top Websites revealed that most are well-designed, intuitive, and easy to navigate. Additionally, they have informative content that makes them what web designers call "sticky." They get many repeat visitors eager to read more about their offerings.
Take Big Business Real Estate Websites like Zillow, Trulia, Home Gain, For Sale By Owner, Realtor, and Redfin as examples. They have so much content a person could become engrossed and spend hours exploring, researching, and comparing listings and sales. I know I have and still do!
Unique, Individual Real Estate Agent Website Designs

Conversely, agents like yourself can achieve similar results with their individual professional sites, especially when they
Are Search Engine Friendly (the content has been adequately Optimized for Search Engine effectiveness) 


 Have Integrated Social Media and Blogs 


Can Import Listings Directly From Your MLS


Can display Real Estate Videos and Virtual Tours


Have Lead Capture Forms   
Additional compelling element design includes software programs like Appointment Management, Calendar Management, Client Database, Commission Management, Contact Management, Email Integration, Lead Management, Property Database, and more. 

Quick Start Real Estate Website Templates

If you don't have a website, an excellent way to create one is to start with a clean, crisp template. You can have a fully functioning website in short order, from basic to custom-designed. And suppose you already have a template site. In that case, you'll find it relatively easy to tweak it to increase effectiveness.
Also, additional content might be more in order if you already have a website than buying a new site. Besides, it is mostly content that gets the attention of bots and spiders that drives traffic to your site, like the content found here on Real Estate Marketing Talk.
Prewritten Real Estate Website Content As a Secret Weapon - Affordably Effective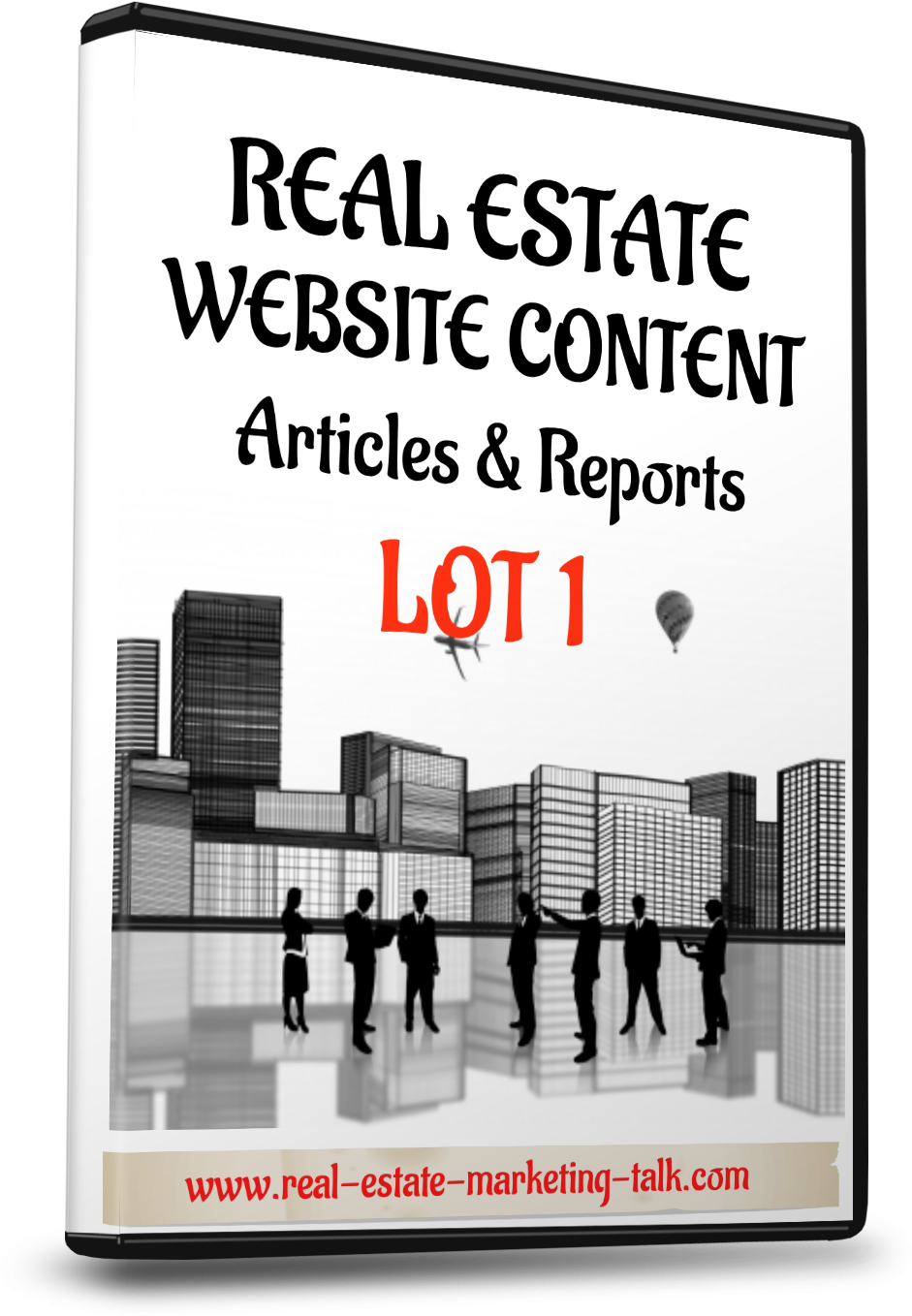 Real Estate Web Site Content
Our content articles educate website visitors and list subscribers on home buying and selling, closing costs, choosing an agent, and other matters related to real estate. Packs range from 10 Letter Article Sets to Mega Packs of 200 Plus Articles - all are well-written and ready for immediate use. Learn more about them. Learn more about them.

Closing Thoughts & Considerations
Are you satisfied with your current level of business? Would you like more success in general? No matter your answers, you should seriously consider creating a website or improving the one you already have. The sooner you start, the sooner you'll grow your status and success in your market. Here's To Your Real Estate Marketing Success!
Home Page > Website Design For Realtors > Real Estate Agent Website