Real Estate Flyer Templates
Real Estate Flyer Templates enable you to quickly create flyers, business cards, logos, brochures, newsletters, posters, etc.
But they need superb graphic design and focused messaging to generate interest. And since "you never get a second chance to make a first impression," you need to make the first one count. The following thoughts, ideas, and resources can help.
Ways To Get Best Results With Real Estate Flyer Templates
Three Flyer Template Services to Know About
First Impressions
Flyers make great first impressions with outstanding graphic design, many of which start from templates. As a real estate agent, you're especially interested in templates that will increase prospects and leads that convert to paying customers.

Templates Are Perfect For Doing It Yourself

If you're not a graphic designer, don't worry about it. You can still have remarkable success with real estate flyer templates, even free ones. While large corporations can contract companies or competent individuals to look after their corporate identity, the rest of us need to either hire the local printing shop or do the design work ourselves.
Fortunately, being able to create a great flyer is not the stumbling block it was years ago. Most computer programs, like word processors, desktop publishers, etc., have 'wizards' that will help you create an identity for your business using existing templates.

Flyer Example

The presentation of information on your flyer, the actual words about your product or services, and related images are considered graphic design elements. And how you use and arrange them will have a consequential impact on your success. Take, for example, the following picture.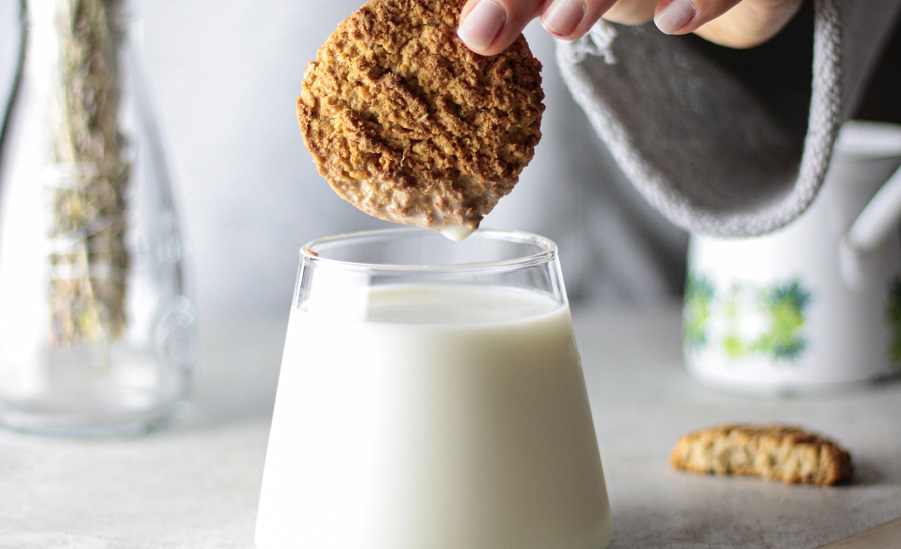 Companies promoting the drinking of milk could write many words explaining the chemical makeup of milk and why you should drink it.

Instead, they add a large photo image of an active person drinking it outdoors, with a cow in the background, and place one word in the corner of the poster, "Milk." Everyone gets the meaning immediately from the photo, which is then reinforced by the word or a few words. 
In this picture, a cookie dipped into a glass of milk also instills a powerful reaction with any words. It has viewers one for themselves.
When Less Is Better

When doing your own real estate flyers, a guiding best practice concept principle is that "less can be best," meaning you don't have to use many words to get your message. People need help focusing on what you want them to do, so help them.
Think of a desk. You can't notice its details when cluttered with papers and junk. When you clear it off and arrange things on top of it with an eye for symmetry, you'll be able to appreciate how attractive a piece of furniture it is.
If you have to present a lot of words, try adding visual interest by adding pull quotes, which are boxes set in the text that quotes some of the highlights of the actual text. The box adds interest.
What People See First

People usually notice the most prominent, boldest item first and then go left to right if no clear indication is given. In a newspaper article, the photo is the first thing noticed, followed by the headline, bold captions, then the actual writing.
There's no shame in looking at a flyer design that works for someone else and emulating it but not copying it. By keeping in mind what your "desk," or focus, is, and by using all the tools at your disposal, many of which are free, you will be able to produce graphic designs that are both eye-catching and profitable...and to think - it all started with a simple Real Estate Flyer Templates.
Three Flyer Template Services to Know About

Fortunately, creating stunningly visual flyers is made much easier with some of today's online open, point, and click user design software - even for agents with limited computer skills.

Want to create the perfect real estate flyer? Then the ones below are great ones to consider. All offer an impressive combination of affordability, ease of use, and point-and-click functionality to design, print, and distribute flyers. Let's take a look at them individually.
Canva 
Canva has millions of images, photos, icons, illustrations, stickers, and other graphics. Its drag-and-drop tool will enable you to add elements to your page quickly while making it look good at the same time. It's a free-use site... so there's no reason not to check it out today! More
Flyerco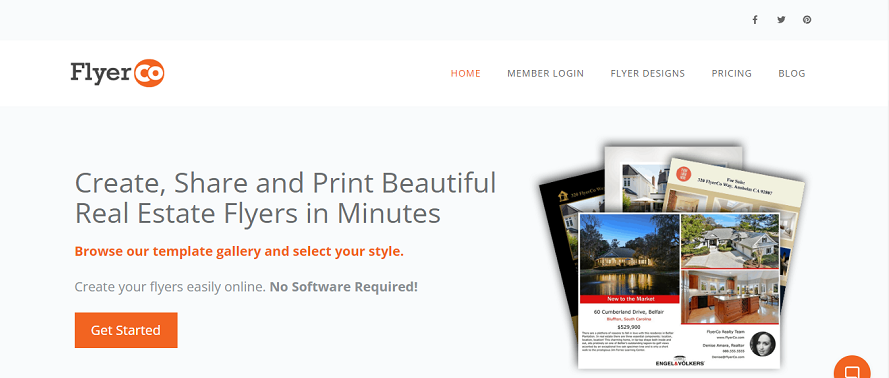 Flyerco - With Flyerco, you can create, share and print beautiful real estate flyers online in minutes! It's as simple as browsing and selecting a flyer style, customizing it with your text and images, then downloading, printing, and sharing it! Pricing is $19.99 per flyer, $9.99 monthly, or $49.99 annually! More
TurnkeyFlyers
Step up to next-level marketing. Transform ordinary homes into something extraordinary through compelling visual images. Then watch your marketing effectiveness shift into another gear with Turnkey Flyers. And you get to start risk-free!  More

These three flyer-making websites merit serious consideration to achieve the next level of marketing success. More
Other pages you might like
Home Page > Real Estate Agent Flyers >> Real Estate Flyer Templates