21 Ways To Get
Home Buyer and Seller Leads

Understandably, Generating Home Buyer and Seller Leads is a priority for many agents.  Afterall, the only thing at stake is the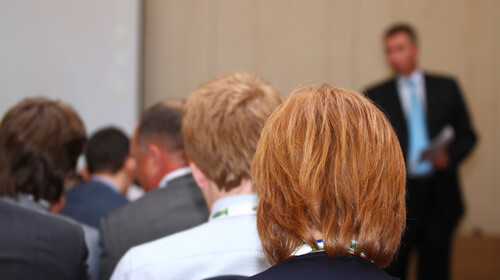 sustainability of their career. When done right, meaning they tap into renewable sources of leads the rewards can be great and the commissions, leads and listings flow. 
Here are The First 11 Ways To Get
Real estate Buyer and Seller Leads
I'm willing to bet dimes to dollars that you're overlooking simple, but effective strategies that generate home buyer and seller leads. Is it a bet? Let's take a look at the first 11 of them and rate your level of involvement with them. 
Email Marketing - even if you're already email marketing there's a good chance that you're only doing it half-heartedly.  However, when you fully engage it with a single minded approach with purpose you'll be amazed at how effective it is an generating a renewable source of leads, automatically and near effortlessly, 24/7/365 days a year... many of which you can convert to paying customers (including getting listings, making sales and giving referrals).
E-zines - while ezines can be time intensive to start and maintain the rewards of doing so can be awesome. Ezines differ from newsletters in that they're only found online and/or in digital format. 
Newsletters - while easier than to start up than ezines, a vast majority of real estate agents never create and market their own newsletters, thus letting leads slip away - day after day! 
Search Engine Optimization (SEO) - while supremely important to maximizing lead generating capabilities of websites, many agents lack having a basic understanding of what SEO is. You can get the basics here. 
Pay-Per-Click (PPC) - this is a form of internet-based advertising marketing where the advertiser pays a fee every time someone clicks on their ad.
Pay-Per-Lead (PPL) - this type of advertising is where the advertiser pays a fee every time a lead is generated in response to their ad.
Pay-Per- Action (PPA) - in this form of advertising a fee is paid when the advertising results in a specific action being taken (filling out a form, a phone call, a showing of a home, a subscription to a newsletter, etc.).
Pay-Per-Impression (PPI) - this may be the least expensive of pay per advertising options. In this one the advertiser pays a fee just for someone seeing their ads, whether or not they take action. 
Pay-Per-Sale (PPS) - this is one of the more costlier advertising methods in this list and is exactly what it says. A fee is paid only when a sale is made. 
Free Classifieds - google "free classifieds" and you'll find a wealth of places to advertise at no cost.  
Buying Leads from a co-registration lead broker - while I think organically grown leads are superior to bought ones an argument can be made for bought ones... if you can afford them.
Building Multiple Streams of
Home Buyer and Seller Leads is The Way To Go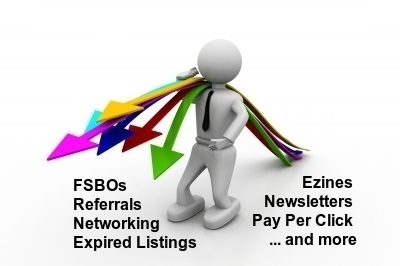 I'm not going to make light of the fact that getting good and plentiful Home Buyer and Seller Leads is hard, as evidenced by a high turnover in the industry... but it's doable.
Still, around 80% of agents find it so hard they enter and leave the field within a year. So, it begs the question - what do successful agents do that those destined to be a statistic don't?

Before I answer the question, you should understand that the race for home buyer and seller leads is a marathon, not a sprint. I've said it before, but it's worth mentioning again - real estate sales is not an immediate gratification career. Not much happens fast when you're talking about real estate. So, instead of thinking hours and days think weeks and months.
Now, having said that there are plenty of things you can and should be doing on a daily basis to establish a successful business.
One Thing to do is find a targeted audience interested in your services and then place yourself, or at least your marketing messages, where they are. It won't do you much good to be marketing 1 bedroom condos to families of 3 or more people.
Another Thing to do is establish a routine where you reach out to and communicate with at least 10 potential home buyers and sellers daily. Lead generation is a numbers game - so the more people exposed to your marketing messages the more business you will generate. And the more focused your targeting messages are the more effective your lead generation campaigns will be.
Here are 10 More Ideas Targeting
Home Buyer and Seller Leads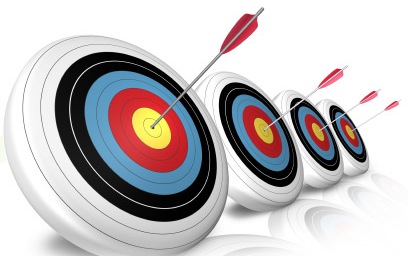 I know I promised just 11 ways to generate home buyer and seller leads, but I'm on a roll and want to offer 10 more. I hope you don't mind.  Here they are.
Cold Calling - I don't like cold calling for leads, never have and never will.  Still, I can't argue against the wild success that some agents doing it profess.
Hold Open Houses - this is one of my favorite strategies that can be done this weekend, whether or not you have listings of your own. See how here.
Attend Rotary Club Meetings - hobnobbing with the movers and shakers in your business community can't be anything but good for your business. 
Sponsor Youth Leagues - helping others is a great way to create good will while generating leads and who better to help than kids?
Host Home Buyer and Seller Workshops - wow your attendees to unforgettable workshops co-presented by industry subject matter experts (bankers, title companies, mortgage lenders, etc.).  
Farm Neighborhoods - some tried and true old school farming techniques, like this one, are still exceptional lead generators. 
Work FSBOs - I read somewhere that up to 82% of fsbos ultimately list with a Realtor. Why shouldn't be one of them?
work neglected properties - most agents focus on well kept, pretty properties while overlooking an equally large inventory of neglected properties that ready for the taking.
Work Abandoned Properties - there's gold in these types of properties... as an investor and/or a listing/selling agent.
Collaborate With Investors - developing relationships with investors can lead to all sorts of future business opportunities. They become potential, buyers, sellers and referrers, financiers, etc. 
So, for the BIG Questions! Does your marketing plan include any of the strategies above?  If yes, how many? If you're doing 6, or more, I say good for you if you are - you're on the right track. 
However, if you aren't and your marketing strategy is limited to going into the office and waiting for the phone to ring, you're in serious trouble and you may soon be a member of the 80% club. Home buyer and seller leads don't magically appear, you have to work for them... and work for them you must! 
Conclusion
Thanks for the time spent reading this page and I hope you found at least a couple of business expansion ideas that you can implement starting today!

That's it for now and here's to your continued Real Estate Marketing Success!
Home Page > Real Estate Leads >>  Home Buyer and Seller Leads
Man and Arrows Image Courtesy of renjith krishnan at FreeDigitalPhotos.net