How To Get Home Buyer and Seller Leads; The Secrets Out

Home Buyer and Seller Leads. What would you do with an unlimited replenishing supply of them? Hire an assistant to get more leads and

make even more sales? Buy a new house? Go on a cruise?
Whatever you would do is made possible by the fact that there are probably unlimited ways to generate real estate leads that you are overlooking. Let's see if I'm right. Are you utilizing the following strategies...

email marketing, e-zines, newsletters; search engine optimization (seo); pay-per-click (ppc), pay-per-lead (ppl), pay-per- action (ppa), pay-per-impression (ppi) and pay-per-sale (pps); free classifieds; a lead generation company; buying leads from a co-registration lead broker?

No? That's what I thought!
\Now, I'm not going to make light of the fact that lead generation is hard, as evidenced by the high turnover in the industry. Many agents find it so hard they enter and leave the field within a year. So, it begs the question - what do successful real estate lead generating agents do that unsuccessful ones don't?
First, understand that the race for home buyer and seller leads is a marathon, not a sprint. I've said it before, but it's worth mentioning again - real estate sales is not an immediate gratification career. Not much happens fast when you're talking about real estate. So, instead of thinking hours and days think weeks and months.
Now, having said that there are plenty of things you can and should be doing on a daily basis to establish a successful business. The first thing to do is find a targeted audience interested in your services and then place yourself, or at least your marketing messages, where they are. It won't do you much good to be marketing 1 bedroom condos to families of 3 or more people.
Next, you must establish a routine where you reach out to and communicate with at least 10 potential home buyers and sellers. Leads generation is a numbers game - the more people exposed to your marketing messages the more business you will generate. And the more focused your targeting messages are the more effective your real estate lead generation campaigns will be.

How are you sourcing home buyer and seller leads right now?  Do you cold call, hold open houses, attend rotary club meetings, sponsor youth leagues, hold home buyer and seller workshops, farm neighborhoods, or fsbos? If you are - good for you, you're on track to succeed.
However, if your marketing strategy is limited to going into the office and waiting for the phone to ring you're in trouble, as home buyer and seller leads don't magically appear, you have to work for them. Here's how I did it.
Real Estate Sales Leads
I am a believer that a "Multiple Streams of Leads" strategy can generate as many home buyer and seller leads as you need and benefited from a multi pronged lead generation approach for years. For example, I campaigned expired listings and fsbos pretty heavily, but at the same time I aggressively pursued what abandoned and neglected properties.
I also worked investors. The approach worked for me, as it led to a diversity of leads that I was able to duplicate and replenish as the market cycled up and down.
Summarily, if you've decided that real estate sales is still for you then you might want to diversify your lead generation approach to create "Multiple Streams of Leads."
Recommendations For Generating Even More Home Buyer and Seller Leads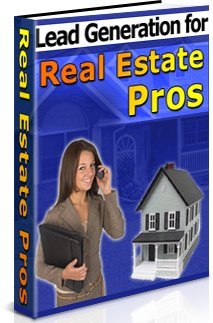 Home Page > Real Estate Leads >>  Home Buyer and Seller Leads